Fridays at the Los Angeles LGBT Center's Youth Center have been dubbed "Pizza Fridays" thanks to the generosity of Beverly Grove eatery, Bobby's Pizzeria. In partnership with Shrine Trust since 2020, the pizzeria has donated hundreds of pizzas to help feed LGBTQ+ youth.
"Youth literally line up each Friday for their favorite slice," said Orville Ranglin, Youth Services Program Supervisor. "It's a fun way to bring together and help feed the youth, many of whom are unhoused or without a caregiver. And it's a nice treat for our staff who work so hard to serve them."
The Youth Center receives 15 assorted pizzas every week, including vegetarian and vegan options. Bobby Alt, the owner of Bobby's Pizzeria, often delivers the pies himself.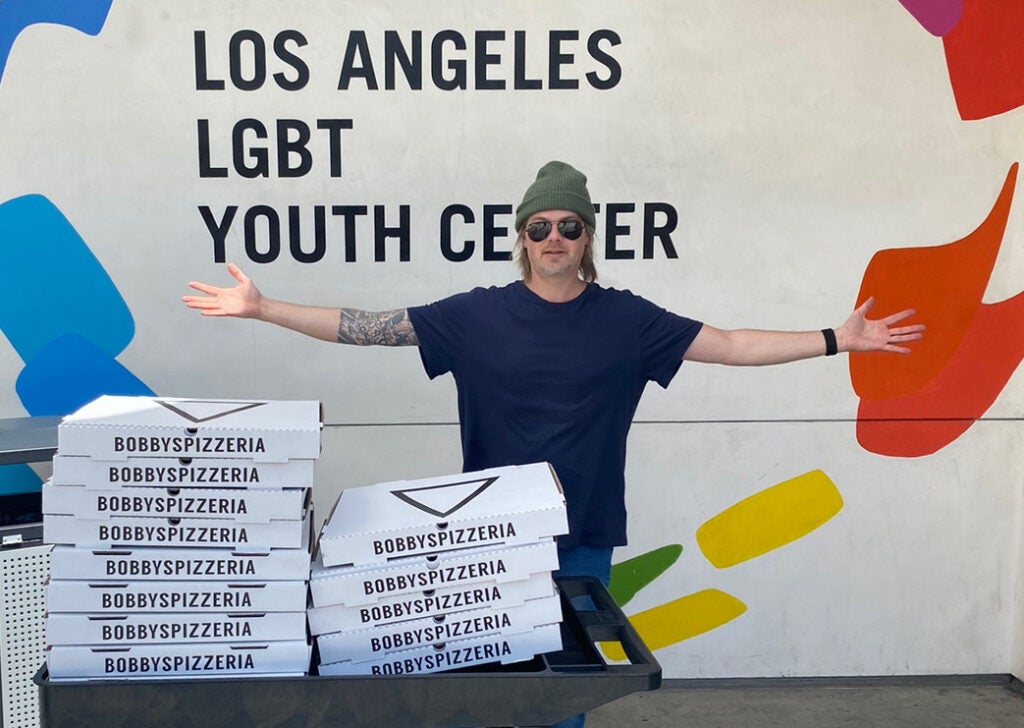 "Every time I make a delivery, everyone is so appreciative and excited to see us," Alt said. "It's nice to see personally that it has an impact. The Center does so much for these kids, but the last few years have been difficult for us all. So, if I can help put a smile on people's faces and make their week a little bit better, that makes me very happy."
Pizza Friday is always one of the highlights of the week for our members, as soon as it's time for lunch, they line up to ask when the pizzas are coming."

Youth Advocate Sam Martin
In addition to operating his restaurant, Alt also performs as a drummer with his band Street Drum Corps. Before the pandemic, the group gave back to the community by performing at charity events and other events around town.
"I always want to do something that inspires kids and gives them a little excitement," said Alt.
Alt's seven-year-old daughter often accompanies him on deliveries, giving her a chance to see first-hand some of the work that the Center does and the impact that work has on the lives of local youth.
"She always asks questions about the kids and the Center," Alt said. "She sees some of these kids who have been displaced just because of who they are, and she can't believe it. I'm hoping it shows her how important it is to show compassion and give back to the community."