Helping those in need began early in young Caín Andrade's life. "That's how I was raised, to always be in service to others," he said. "Any job that I have is usually centered around helping others."
Driven by a desire to help the unhoused LGBTQ+ community, Andrade first joined the Center five years ago. He was soon recruited by director of strategic initiatives Alan Acosta to assist at the then-newly opened Mi Centro location, a partnership with the Latino Equality Alliance serving the community in Boyle Heights.
"This is my community, I feel part of the Latinx community, so I wanted to start interacting with them more and help out in any way that I could," said Andrade. "I started to create some social networking groups that were in Spanish so that we could provide these services to our communities over here."
I work for the community. I want them to know that I work for them, and I want them to feel like I can elevate their voice and make them heard a little bit more."

Mi Centro Program Director Caín Andrade
In the years since, Mi Centro has expanded to include a twice-weekly legal clinic, HIV testing services, and mental health services. With Andrade now at the helm as program director, he plans to grow Mi Centro's array of services for the community. He is currently implementing a program centered on providing holistic wellness for community members, and addiction and recovery services are in the works as well.
"I've started to work with a local nonprofit called A Tribe Called Queer to bring an event that is just about yoga," he said. "So that's kind of getting the ball rolling for Mi Centro, because I want to create a program that's not just about HIV testing and the general challenges that we face, but also about uplifting our spirits in our community with things like art and theater—things that are about enriching our lives, telling our stories, and celebrating our communities. These last few years have been quite traumatizing for a lot of our communities as they deal with their immigration status, the pandemic, and how hard all of that has been just on general living."
Indeed, so difficult have these last few years been for many in the community that they may not have gotten through without the help of Mi Centro and its Pride Pantry. "I'm proud to say that during the height of that pandemic, I borrowed a truck from one of my close friends, and we drove goods from the main Pride Pantry location over to Mi Centro every single Friday to make sure that our folks over here have those resources," said Andrade.
Pride Pantry still provides a bag of groceries and dry goods every single week for our community members who might have lost their jobs or just need a little bit of a supplement."
One silver lining of this challenging period, says Andrade, has been that it's helped bond Mi Centro more tightly with the communities that it serves. "I think the main thing is that we were consistent, and we were a constant for them," he said. "We made sure that they knew that we were their connection to services, and that we were a safe space for them and a brave space for them."
This vital outreach has included entire families, beyond just their individual LGBTQ+ family members—something that Andrade believes makes Mi Centro unique among LGBTQ+ service providers.
"Not only do we serve that individual that is transitioning or that is coming out, but we serve the entire family—the tio, the tia, the grandparents, the little ones, all of them—because they come along with that LGBTQ person," said Andrade, who's 41 and lives in Long Beach with his partner of seven years (and husband since 2020), Kenny Simkins, a professor and academic counselor at LACC. "We want to make sure that we are addressing the entire family, because they're very protective. It may be a little bit more work, but we know that the family unit is so pivotal and so important to this community, so we would be doing a disservice if we did not serve the entire family. I think that is what has built the most trust at Mi Centro."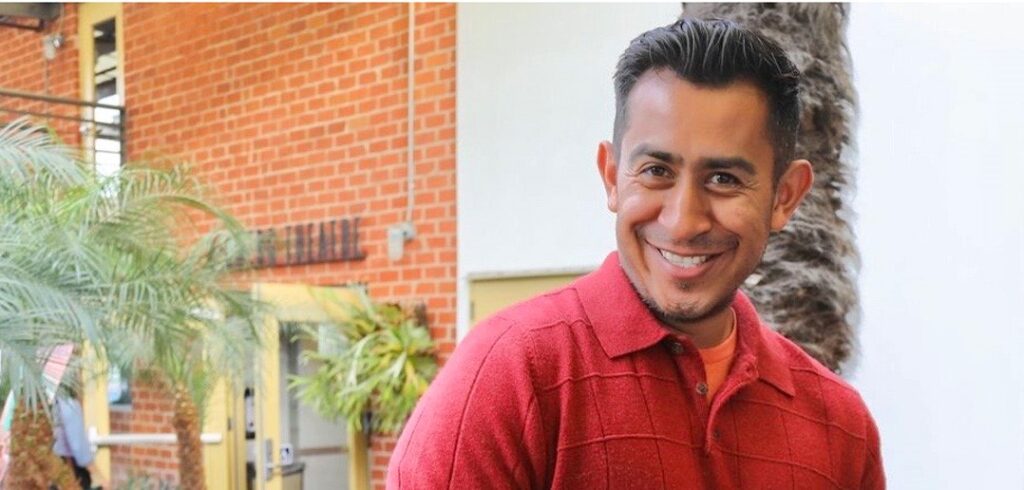 Andrade says that one of his favorite roles at Mi Centro is just sitting down for face-to-face time with community members. "Sometimes they'll just come in and want a little bit of my time, and I always want to be available to sit down with them and say, 'What's going on? Tell me,'" he said. "They're who I serve. I think ultimately, it's not the Center that I work for, I work for the community. I want them to know that I work for them, and I want them to feel like I can elevate their voice and make them heard a little bit more."
Though centered in Boyle Heights, Mi Centro serves folks across a wide geographical area, including downtown Los Angeles and southeast L.A. communities like Bell, Bell Gardens, Cudahy, and South Gate. "These are the communities that I grew up in, and I'll tell you this—I wish Mi Centro had existed during those times," said Andrade. "The Latino Equality Alliance, too. They do so much work out there. Kids like me, when I was growing up, I could've really used them."
Those ideals of service and community were front of mind for Andrade and Mi Centro when planning the location's new mural project. Created by a team of local youth led by first-generation queer artist and Los Angeles native Dalila Paola Méndez, the mural is a tribute to the Latinx and LGBTQ+ communities of the city.
To me, the mural depicts our struggle, our journey, and triumphs through it all in our communities, it says there's hope because we have community."

Caín Andrade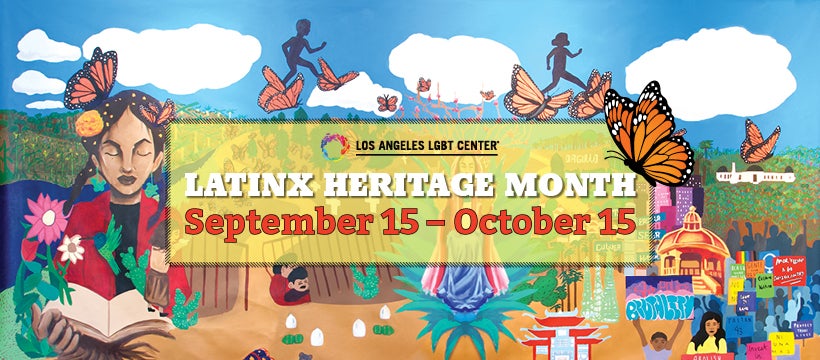 The mural is composed of four separate panels. Images of monarch butterflies, known for their annual migration across North America, float in the background with silhouettes of children carried across their backs. Andrade said the image can be summed up in a few words: "Mi Cultura. Mi Gente. Mi Centro."
Get Involved
Join us in our mission to create a world where LGBTQ+ people thrive as healthy, equal, and complete members of society.
Donate Now