Our education program is a safe and supportive space for LGBTQ+ youth ages 18-24 to pursue their educational goals at all levels.
Message Us to Get Started
The Center provides a wide range of educational opportunities at the Ariadne Getty Foundation Youth Academy on our Anita May Rosenstein Campus—whether it's pursuing a GED or working on a high school diploma at our on-site Charter High School, or even engaging in vocational training or exploring, enrolling in, and completing college.
The education program delivers the support necessary to achieve educational goals, including ESL support, one-on-one tutoring, personalized lesson plans, GED exam preparation & testing, assistance with college applications, and planning and customized staff support. We also offer a robust scholarship program for students to support youth in their career and educational aspirations.
The Youth Academy Education Program
Our College/Vocational School (Two-to-Four Years)
College Advisement/Counseling
Financial Aid/Scholarships
School Supplies/Textbook Assistance
GED/High School Completion
GED Preparation
On-site John Muir Charter School
Pupil Services and Attendance Counselors
Individualized Lesson Plans
Scholarships at the Los Angeles LGBT Center
About Our Program
Every year, the Los Angeles LGBT Center's Youth Scholarship Program provides over $40,000 in scholarships to LGBTQ+ youth engaged in higher education. This scholarship fund was founded on the belief that all young people are deserving of a supportive educational experience and is designed to assist youth in reaching their career and educational aspirations. 
Who Our Scholarships Benefit
The program awards scholarships in STEM, media & entertainment, engineering & technology, and general fields to students who have shown strong promise and potential, but who might not otherwise complete a full educational experience without financial support. With these scholarships, the Center aims to break down barriers to education opportunities and inspire the next generation of LGBTQ+ students to reach their full potential.
Helping Those Who Need
The Los Angeles LGBT Center's Youth Scholarship Program offers financial support for selected LGBTQ+ students and their allies who are or will be pursuing a post-secondary education. The program grants scholarships to students who have shown strong promise and potential, but who, without financial support, might not otherwise complete their educational goals. The program considers academic merits, extracurricular activities, community involvement, personal narrative, and financial need.
Our Generous Supporters
Annual funders include Angel City FC & CLEAR, Comcast NBCUniversal Telemundo, Edison International, and the Felice Samuel Greene Scholarship Fund.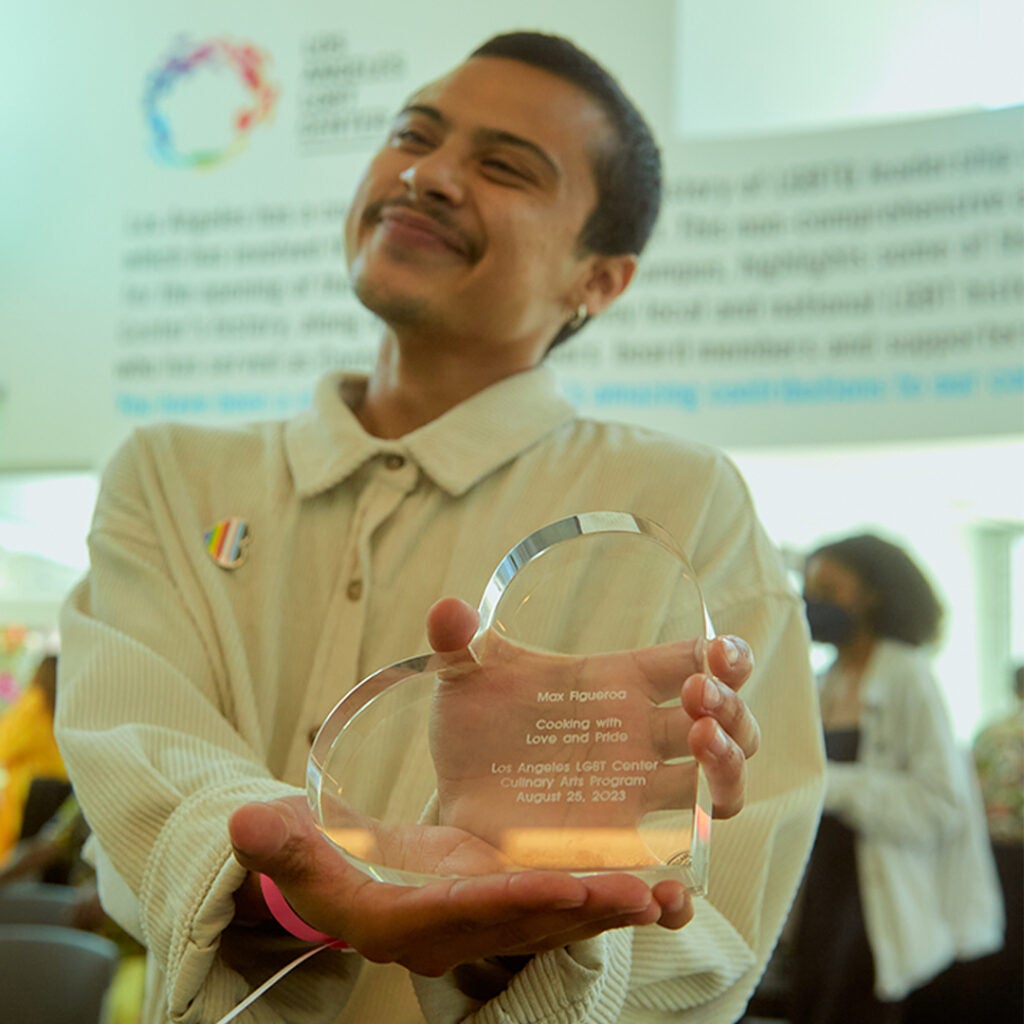 Congratulations to Our Scholarship Recipients from 2023!