In 1967, just weeks after undercover police officers violently brutalized and arrested dozens of people for the crime of kissing in public to celebrate the New Year, hundreds of Angelenos came together for a demonstration at the Black Cat Tavern in Silverlake. The peaceful protest, organized by a coalition of LGBTQ+ community groups, made history as one of the first known demonstrations in defense of LGBTQ+ rights.
Demonstrations like the one at the Black Cat Tavern, and the Compton's Cafeteria riots in San Francisco and the Stonewall Uprising in New York, formed the basis for the LGBTQ+ movement that we know today.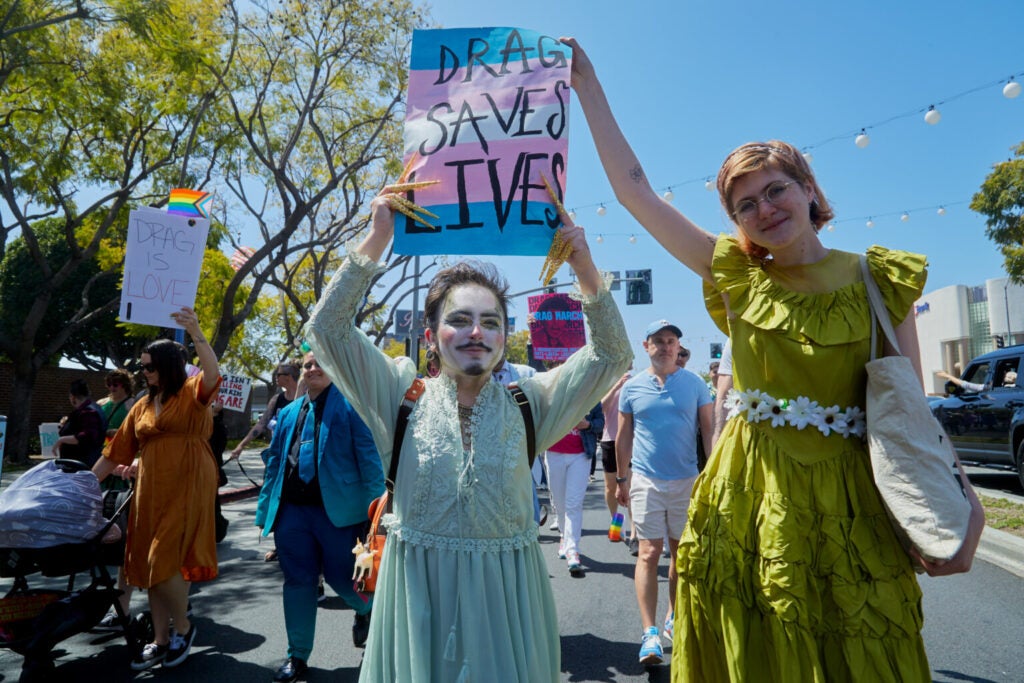 More than 50 years later, a new generation of Angelenos came together on Easter Sunday for a different demonstration with a very similar purpose. Decked out in their Sunday Best, more than 2,500 people gathered in West Hollywood Park to defend the hard-fought gains the LGBTQ+ community has made over the last half-century.
Drag March LA, organized by the Los Angeles LGBT Center with the support of dozens of community partners, was a colorfully defiant response to a new wave of anti-LGBTQ+ legislation across the country and a celebration of bodily autonomy and free self-expression.
"Anti-LGBTQ+ legislation has long been used by police to target queer spaces and violate our rights," Los Angeles LGBT Center CEO Joe Hollendoner said at the rally. "This is a coordinated effort to demonize queer and trans people and label our community as a threat to the public, and we will not allow it. We will not allow it."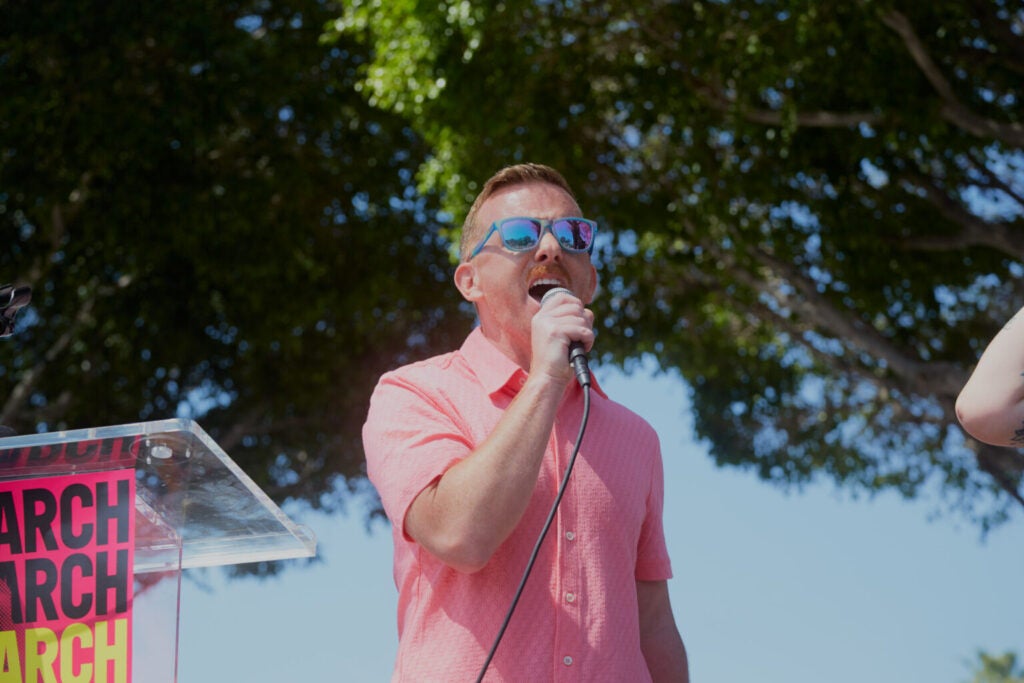 This is a coordinated effort to demonize queer and trans people and label our community as a threat to the public, and we will not allow it.

Joe Hollendoner
In the first three months of 2023 alone, more than 400 pieces of anti-LGBTQ+ legislation were introduced or passed across the United States, most of them targeting transgender and gender nonconforming people. Far-right activists and politicians have sought to criminalize gender-affirming care for transgender youth, ban drag performances from public spaces, and erase LGBTQ+ history from schools.
"It is an abomination to see how the LGBTQ+ community is constantly used as a target for hatred because they are failing and they know they're wrong," Los Angeles County Supervisor Lindsey Horvath said in her address to the crowd. "We are the majority. We will continue to rise up and stand in solidarity."
Drag March LA was formed to serve as a reminder of the strength of the LGBTQ+ community—and a call to action to continue fighting in defense of LGBTQ+ rights. Participants marched the streets of West Hollywood bearing signs that read "Queer to Slay" and "Drag Is Not a Crime." Many came dressed in full drag as response to so-called "drag bans" instituted in states like Tennessee and others.
RuPaul's Drag Race alum Kerri Colby, who delivered an emotional performance of Beyoncé's "Listen" at the rally, reminded the crowd of the importance of this moment for the trans community and called on everyone to show their support in the voting booth as well.
"I truly believe this is the start of something revolutionary," she said.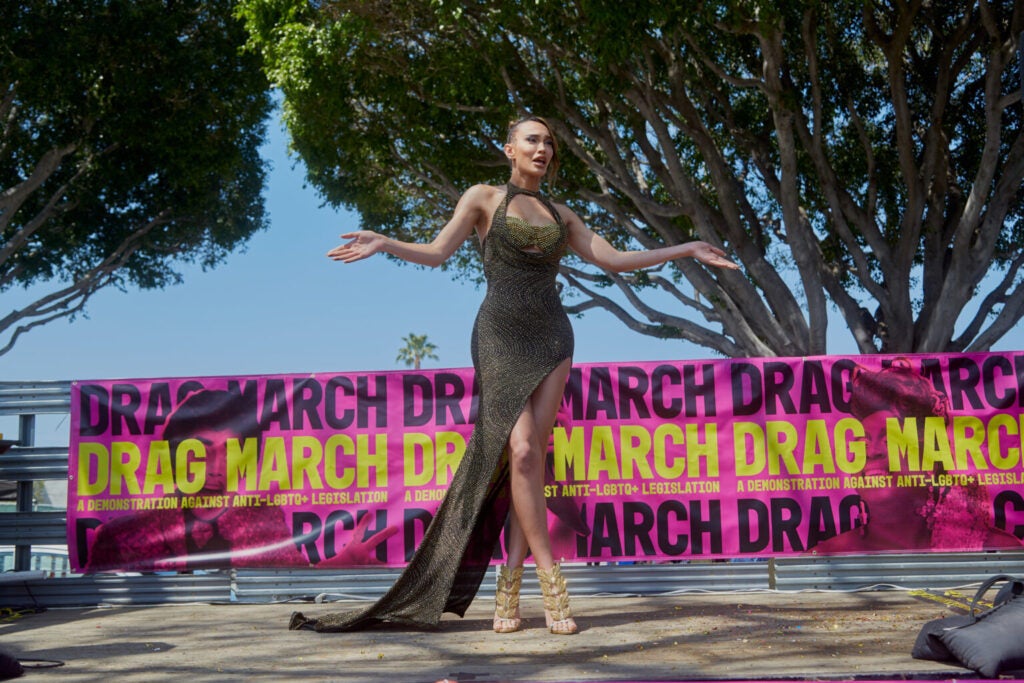 "We're going to have to keep fighting—maybe for the rest of our lives," said City of West Hollywood Mayor Sepi Shyne. "But they can never take away our authenticity. They can never take away our ability to love, or our compassion and freedom. We'll never give that up."
Other speakers at the rally included Trans Wellness Center program manager Mariana Marroquin, Jazzmun Crayton of APAIT, Bamby Salcedo of the TransLatin@ Coalition, Tony Hoang of Equality California, and Rev. Keith Mozingo of Founders Metropolitan Community Church blessed the march as their drag persona, Pastor Penny Costal. Fellow RuPaul's Drag Race alum Honey Davenport performed a show-stopping set that included a dozen local drag artists along with the drag king Twinka Masala. An interactive art installation and resource fair was available on site to connect attendees with local service providers and community organizers. Notable attendees included supermodel Cara Delevigne and drag phenoms Shangela and Alaska.
"Like those who came before us, we are not just fighting for ourselves," said Hollendoner. "We are here to fight for the generations to come. We owe it to our youth to create a world where they can grow up knowing that they are loved, respected, and valued, no matter who they are or whom they love. And we owe it to our elders—the people who fought for our hard-earned progress—to fight back against these evils when they rear their ugly heads."