Earlier this year, a 65-year-old man showed up to the Center's pharmacy in a state of disarray. He had bandages on both of his legs from a bad fall, and came to the desk with tears in his eyes. "He had cataracts and couldn't read the prescription labels of the medications he had brought with him in his brown paper bag," says clinical pharmacy coordinator Tam Phan in sharing his encounter with a patient living with HIV and unmanaged high blood pressure. After speaking with the patient, Phan learned he was living with HIV and had extremely high blood pressure. "He was also taking two blood thinners, which meant that if he were to have another fall, he could have been at potential risk of prolonged bleeding."
Phan went right to work. He gave the man a blood pressure pill and had him relax in a chair until it stabilized. He then went through the collection of medications in the man's bag, took away any therapeutic duplicates, and sorted everything into a pill box. Phan continues to meet with the client once a month to provide guidance and help organize his pills.
Such care and attention may be atypical of our larger medical industrial complex, but it's not uncommon at the state-of-the-art pharmacy located on the ground floor of the Center's four-story McDonald/Wright Building in Hollywood, where approximately 18,000 prescriptions are filled each month.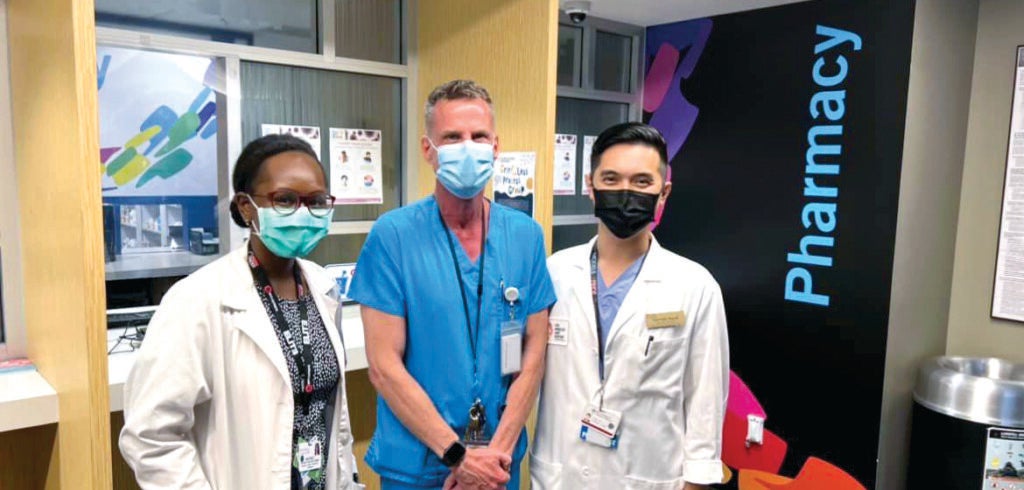 "It's a giant assembly line with a really good, even workflow," Associate Pharmacy Director Greg Bowles says of the pharmacy, which typically has 40 staff members on duty at one time and 60 employees overall. "Even though it's high volume, it runs smoothly."
In addition to pharmacists who fill prescriptions and counsel clients, there are three filling technicians on duty at all times— accompanied by a robotic prescription dispensing system that holds 250 different medications and can fill about 40% of the daily orders. There is also a team of five technicians who field more than 400 phone calls a day, and a group of financial coordinators who help with billing issues and finding patient assistant programs to get medications covered at little to no cost to the patient. Other technicians focus solely on inventory so that frontline pharmacists don't get stretched too thin.
"If you walk into a retail pharmacy, they are usually understaffed, answering questions for one patient and ringing up another," Bowles says. "We go the extra mile. We have everybody focus on one primary task so it's done precisely. Our pharmacy requires more staff, but it results in better patient health outcomes."
We go the extra mile. We have everybody focus on one primary task so it's done precisely.

Associate Pharmacy Director Greg Bowles
The Center is one of the nation's few Federally Qualified Health Centers with providers who specialize in primary care for LGBT people and those living with HIV. The pharmacy staff have LGBTQ+ cultural competency and are either allies or members of the community themselves. All of the pharmacists are considered experts in HIV care and are accredited with the American Association of HIV Medicine.
"We have access to the same software our clinic uses upstairs, so we have access to all the labs, appointments, and doctor notes," Bowles explains. "That means we have an advantage: we get a more comprehensive clinical look at a patient's needs compared to an outside community pharmacy, which can only see their medications."
In addition to dispensing antiretroviral medications, the pharmacy also focuses on transgender medicine, PrEP (Pre-Exposure Prophylaxis), and more recently dispensed TPOXX (Tecovirimat), an experimental drug for people diagnosed with human monkeypox to shorten the severity of the disease and help with some of the symptoms.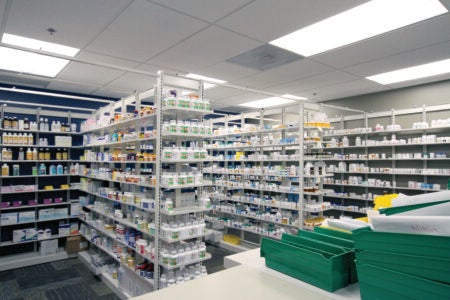 Pharmacy Takes Financial Hit
The pharmacy is a part of the 340B program, a drug pricing plan designed to expand access to affordable, discounted prescription medications for vulnerable, low-income, and uninsured patient populations. This means patients who see medical providers at the Center's clinic are able to purchase their medications from the pharmacy at a reduced price. The lower drug costs allow the Center to carry over the savings to patients and to other programs.
"Because we have access to the 340B drug discount program, we pass those savings on to patients," explains Director of Pharmacy Services Nicole Thibeau. "A medication might cost significantly less with us than it would from a retail pharmacy, and we sell it to the patient with a small dispensing fee. This means that a medication that might be completely non-affordable at another location could cost a patient only a few dollars with us."
The pharmacy filled more than 200,000 prescriptions last year for about 5,500 individual clients. But not all clients who use the Center's clinic are using the pharmacy, which hurts the Center's bottom line.
"The 340B program generates savings for us that we then put back into patient care," Thibeau says. "Whenever any of that goes away, it negatively impacts what we can do for patients."
The pharmacy has long been a major revenue generator for the Center, which provides services for more LGBT people than any other organization in the world. But through a combination of factors, including changes to the Gilead Patient Assistance Program reimbursements, the pharmacy projects to net $10 million less this fiscal year than it did in 2021.
The pharmacy is the single greatest source of income for the Center and requires us to increase our private and public fundraising efforts

Los Angeles LGBT Center CEO Joe Hollendoner
"Unfortunately, the federal program that allows for the significant savings our pharmacy generates is under attack by legislators and pharmaceutical companies. While we attempt to defeat these efforts, the likelihood is that over time, our pharmacy will be less of a reliable source of wrap-around program funding."
Providing Personal Attention
Phan says that on a recent weekday, six clients were scheduled for one-on-one appointments who all had more than 10 medications. Patients with complex medication regimens are referred to the clinical pharmacists for what is known as polypharmacy, which is the taking of five or more medications.
"Our main role here is to ensure that medications remain safe and effective for all of our patients that are being treated at our clinic," says Phan, an assistant professor at USC School of Pharmacy who began working at the Center's pharmacy three days a week in 2019. "This is not often offered at other clinics and pharmacies, and I've had many patients share that this is the first time where they had someone sit down with them for an hour to talk through all of their medications."
Get Involved
Join us in our mission to create a world where LGBTQ+ people thrive as healthy, equal, and complete members of society.
Donate Now