Emiko Kenderes has always seen herself as a bridge builder—someone who hears the stories of others, works to understand their experiences, and makes room for their voices. Even long before she started working as a mental health clinician at the Los Angeles LGBT Center. "I felt like I was drawn to become a therapist," she says.
Coming from a conservative religious background, Kenderes first pursued a career in counseling and therapy with the intention of helping others navigate their own paths to healing. After leaving a 13-year marriage to an evangelical Christian pastor, Kenderes came out and chose to specialize in conflict resolution.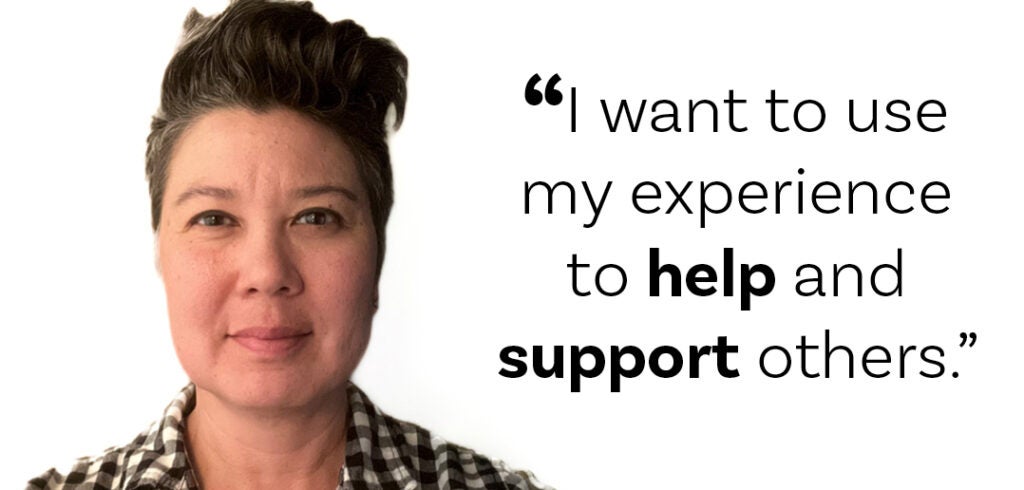 "I wanted to bridge the gap between the conversations between the conservative Christian world and the LGBTQ community," she says. "I wanted to work with and serve my community because I know they're hurting. As somebody who understands coming from that world, I want to use my experience to help and support others."
Her path eventually led her to the Los Angeles LGBT Center, where she started as an intern more than seven years ago. "I searched 'LGBT mental health therapy' and—of course, being the biggest LGBT organization in the world—the Center was the first thing that popped up."
Today, in addition to her work as a mental health clinician, Kenderes also serves on the Center's Diversity, Equity & Inclusion committee, advising senior management and working to make sure that the Center's more than 800 employees feel represented and heard.
"We really wanted to create this sense that we're here to listen, and we hear you loud and clear," she said. "We're really going to keep tugging on the Powers That Be to listen, and really bring that challenge to the table—push for transparency and push for having the important conversations."
We really wanted to create this sense that we're here to listen, and we hear you loud and clear.

Emiko Kenderes
For Asian American and Native Hawaiian/Pacific Islander (AANHPI) Heritage Month, one of Kenderes's main goals is to honor the full breadth of the community.
Kenderes, whose father was born in a Japanese internment camp in Gila, Arizona, notes that the label AANHPI encompasses more than 50 countries and identities, but many often get overlooked and forgotten even in a month dedicated to celebrating their heritage.
"I do feel that the typical stereotype of the model minority creates a lot of invisibility generally across the Asian community," Kenderes says. "When we think of AAPI, it seems to be Japan, China, maybe India, and that's about as far as people go.
"It was important to me that, when we honor AANHPI Heritage Month, that we recognize the full diversity of the community."