The Los Angeles LGBT Center's Senior Services department held its first senior showcase in September, a celebration of the department's vast array of groups, classes, and programming. The event gave participants a stage and a microphone to tout the work they've produced, highlighting everything from tai chi and tap dancing to vocal performances and poetry readings.
"It's both showing off all the amazing things our seniors are doing and making sure that the community is aware of all the different offerings that are available," said Michael McFadden, Senior Services' associate director of programs. The department is planning to host showcases biannually going forward, with a senior art show slated to continue the new tradition next summer.
The day opened with a color guard routine performed by some of the department's retired veterans and a brief tai chi practice led by Anthony Ocasio, instructor of the Senior Center's weekly class. Ocasio touted the benefits of a regular tai chi practice, which "opens the mind and lifts the spirit through low-intensity exercise." The Senior Center's class also incorporates a sound bath healing session to reduce stress.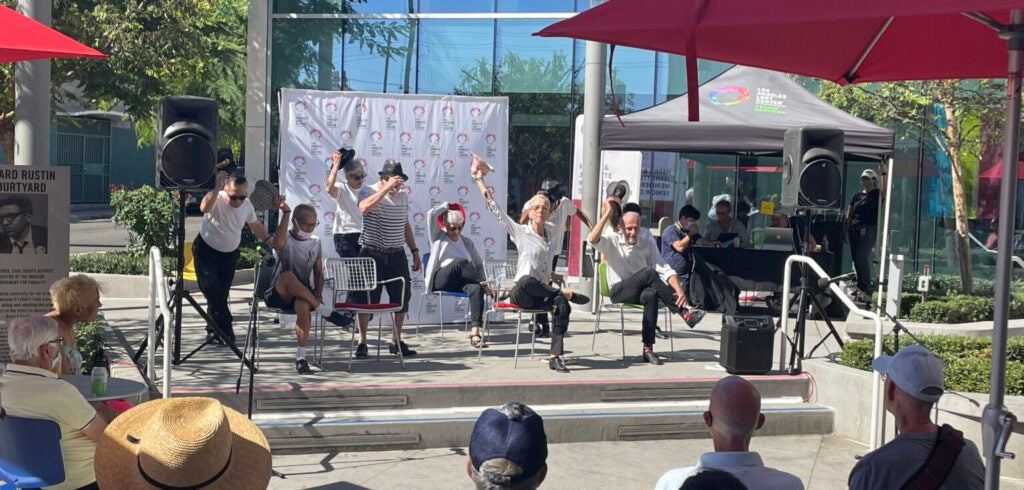 The showcase also featured readings from the long-running Senior Writing Group. The 10-person class, which boasts a waitlist for participation, features regular readings and peer commentary. "It's a totally safe environment," said a participant who shared a reading about visiting a gay nightclub for the first time. "Most of the work is autobiographical therapy."
Members of the Allies for Racial Justice Book Club took the microphone to encourage seniors to sign up to learn about building connections and trust. The group has previously read and discussed books including White Fragility by Robin DiAngelo, How to be an Antiracist by Ibram X. Kendi, So You Want to Talk About Race by Ijeoma Oluo, and the group's current book, My Grandmother's Hands: Racialized Trauma and the Pathway to Mending Our Hearts and Bodies by Resmaa Menakem.
"We invite anyone to be in the group," said participant Neil Beecher. "You don't necessarily have to have read the books to participate, because you have a lived experience to share. Because the dialogue that takes place will open things up in your mind and you'll go, 'Oh, I saw that. I experienced that.' We learn from one another in that way too."
Members of the TransC.A.R.E. (Community, Autonomy, Resiliency, and Empowerment) and Men Living With HIV support groups also put out calls for new members. Veterans of the "Still We Rise" women's poetry group shared readings of poems they completed in the program.
The showcase also found time for joy and levity between its more serious moments, with the still-unnamed senior chorus performing lively renditions of the Temptations' "The Way You Do the Things You Do" and the Beatles' "Twist and Shout." Students of instructor E. Talley's R&B Line Dancing class also performed a number, and Lauren Peterson's beginners tap class showed off a low-impact, seated version of their routine.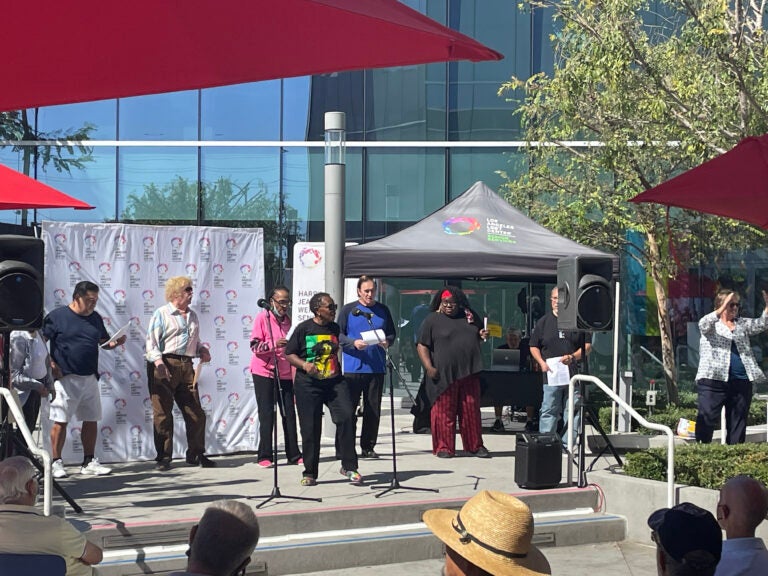 Senior Services staff got their own recognition toward the end of the event, with activities coordinator Kimberly Rhodes shouting out the staff's efforts as Senior Services transitions back to in-person programming. "They put in hours and hours of work," she said. "We appreciate you and we see you." The crowd, made up of clients and residents who have had few chances to gather since the start of the pandemic, cheered and applauded in response.
"It's been great to see people coming back in person," said McFadden. "The folks who have come back have been really eager and excited to have these opportunities to reconnect with their friends—or to meet new friends who they've been on Zoom with for two years and never actually met in person. Some of them have been deeply connected and supporting each other through the COVID-19 pandemic but hadn't ever actually met in person until now."