On Friday, August 18th, Laura "Lauri" Ann Carleton, 66, was tragically killed in an act of anti-LGBTQ+ and gun violence. The incident took place in Lake Arrowhead, a popular destination 90 minutes east of Los Angeles, and just outside of Lauri's retail shop, Mag.pi. The beloved store owner was shot after an altercation with a passerby who disparaged the LGBTQ+ pride flag hanging outside of her store. The armed suspect was found later that day by the authorities, and died during a confrontation with local law enforcement. The tragedy has made national news and shaken the Lake Arrowhead community, leaving fellow shop owners concerned about possible violence.
Lauri is survived by her husband, Bort Carleton, and their blended family of nine children. Although she did not identify as part of the LGBTQ+ community, she was a vocal ally, and unwavering in her support of inclusion and acceptance. Lauri's longtime friend and owner of the Lake House Collection, Robin Lyles, had previously seen her face verbal harassment because of her support for the LGBTQ+ community. The two friends often called their stores the retail strip's "bookends."
"She would get bullied all the time by people at the local restaurants or people walking around. But she wouldn't take it, Lauri would always challenge them and be in someone's face. She wasn't going to let anyone bully her," Lyles remembers.
Lyles insists that there is a general sense of acceptance in the scenic resort town—but that the community has a vocal conservative contingent. Still, over the weekend, a growing memorial of flowers, flags, and mementos bloomed outside of Mag.pi, accompanied by an outpouring of support on social media for the cherished shop owner, mother, and LGBTQ champion.
Lauri is remembered as having a stylish eye, a cultured background, and a strong spirit. And even though she split her time between Lake Arrowhead and Los Angeles, where Mag.pi has another location, she left a lasting impression for her contributions to the community. When Lake Arrowhead experienced record snowfall this year, Lauri organized a support pop-up to aid anyone experiencing food and clothing insecurity. She was also a founding member of the Mountain Provisions Cooperative, a group focused on expanding healthy food access to local mountain communities.
Lauri's decision to hang the Pride Flag—a symbol of resistance for the community since the early Pride demonstrations of the '70s—comes at a moment when national retail chains like Target, Starbucks, and even Cinnabon have reportedly decided to halt their Pride displays indefinitely. But this tragic act of hate-related violence is, unfortunately, part of a growing backlash to the LGBTQ+ movement in the United States. There were more than 350 anti-LGBTQ incidents from June 2022 to April 2023 across the county, according to a joint survey released by the Anti-Defamation League and GLAAD. This uptick in violence is accompanied by more than 500 pieces of anti-LGBTQ+ legislation introduced throughout the country, most of which seek to curb the civil rights of transgender people and queer youth.
At a time when the Lake Arrowhead LGBTQ+ community needed brave and outspoken allies the most, they are now mourning the loss of one of their fiercest champions. In lieu of flowers, Lyles tells us that supporters are encouraged to make contributions in Lauri's name to the Lake Arrowhead LGBTQ+ fund.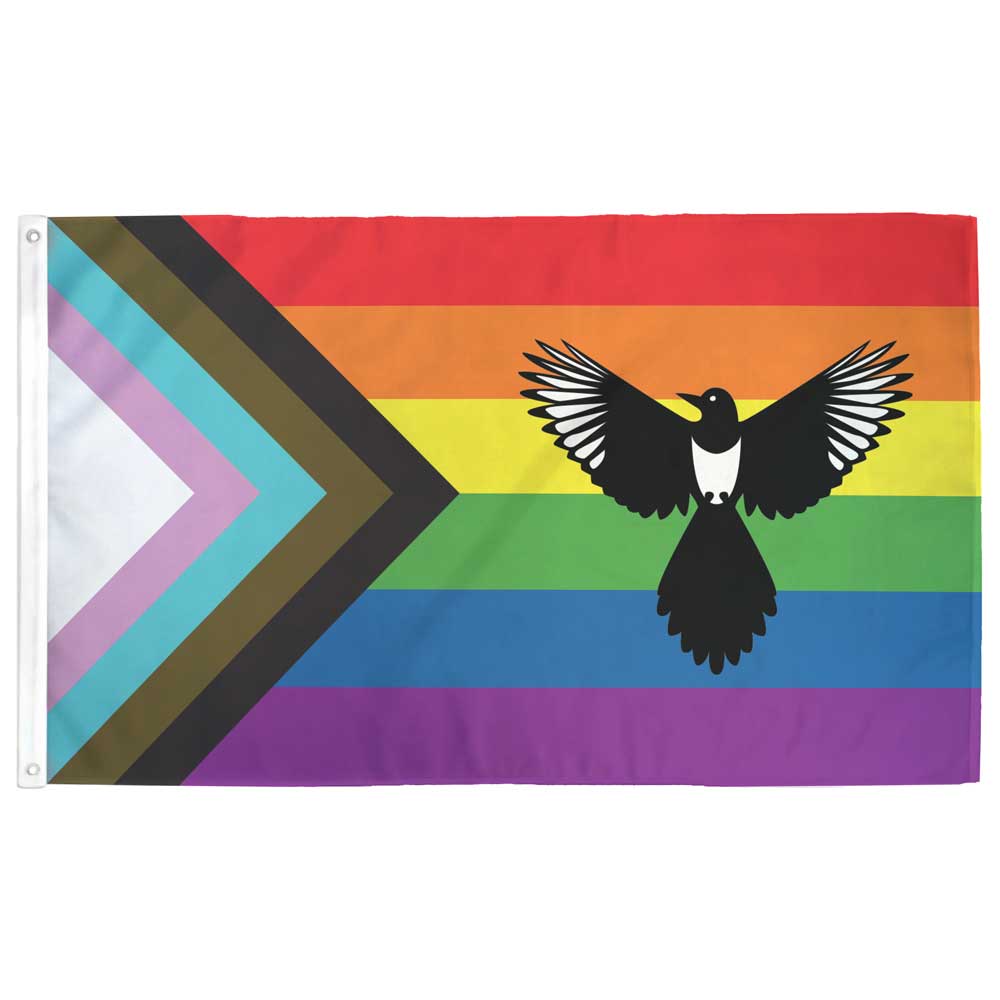 Preorder the Magpie Pride Flag
In collaboration with Flags for Good, the Magpie Pride Flag honors the memory of Lauri Carleton, with proceeds supporting the Lake Arrowhead LGBTQ+ Fund.
Preorder